Study Counseling
The Study counselor primarily supports students in their learning efforts and helps them cope with difficult situations connected to their studies. The counselor helps with preparing for examination periods. She mainly specializes in the internal regulations of the University of Ostrava. Her activities are also focused on prospective students, whom she offers advice on choosing a suitable degree program and streamlines the offer available to them.
We are here for
Students, Applicants
What do we offer?
Information for choosing a field of study, the form of study and effective preparation for admissions
Support for adaptation to new studies and living conditions
Assistance in solving learning problems throughout the course of study
Cooperation during the exam period, failure prevention program
Strategy for an effective learning style
Coping with stress, struggling with procrastination, motivation to study
Advice on whether to transfer to another school or field of study
Counselor contact: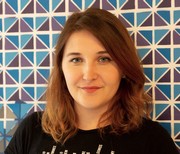 Bc. Tereza Kuchařová
Tereza Kuchařová is an alumni of the University of Ostrava and herself knows the life of a student in Ostrava with everything that belongs to it. During her studies she took part in an Erasmus + program and she is still working with foreign students today.
She provides applicants with information on studying at university and encourages students to successfully complete their studies. She participated in the creation of a handbook for freshman and knows a lot of tips and advice not only for first year of study.
How can you contact me?
E-mail:
Phone: +420 553 46 1341
Facebook
A personal consultation with the advisor requires an appointment to be made first by email or telephone call.
You can also use email consultation for answering simple questions on your studies. Click on the email address to send your question.
Updated: 17. 03. 2020