Psychological Counseling
Psychological counselling is intended for students who are looking for support and help in a difficult life situation. It's a safe space where you and your psychologist can work on yourself and map out what's going on inside and around you. It will allow you to explore your resources, to better understand yourself and the relationships and situations you find yourself in. Confidentiality and an atmosphere of trust and understanding between the psychologist and the client is essential. The psychologist's silence and adherence to ethical standards are a matter of course. Psychological counselling is provided to students free of charge in the form of personal or online consultations.


Who are we here for?
Students


What can I expect?
The counselling takes the form of a confidential conversation between the client and the counsellor. Consultations can be done in person or online via video chat. The first meeting is usually devoted to mapping the situation and expectations. The length of one meeting is 50 minutes. The total number and frequency of meetings is by appointment, according to the needs of the clients. By using the Psychological Counselling service, the client acknowledges the Information on the processing and protection of personal data at the UO Counseling and Career Centre.
When to contact us?
you are in a difficult life situation
you lack meaning and a sense of fulfillment in your current studies
you are not keeping up with your studies
you are suffering from strong emotions, anger, fear, worry or panic attacks
you feel lonely, you feel like you don't fit in
you don't trust yourself, you doubt yourself, you don't like yourself
you have trouble communicating with the people around you
you have trouble making up your mind and getting your priorities straight
you want help with emotional hygiene
you feel mentally unwell for a long time
anything else that's bothering you that you didn't find above
How do the consultations work?
Personal consultations take place directly at the premises of the Counseling and Career Centre at Mlýnská 5. The date must be arranged in advance by email or by phone at +420 553 46 1345.
Online consultations are then conducted via video call on a secure platform. A working camera and microphone, a stable internet connection and a quiet place where you won't be disturbed by anyone are essential.


How to make an appointment?
Write to the email and describe the issue in the body of the message, at least briefly.


I need help now!
If you need help urgently, you have several options. You can contact one of the services that operate around the clock, such as the Ostrava Crisis Centre or the First Psychological Help Line (phone: 116 123). We can also recommend the Nepanikař app (downloadable for iOS and Android), which offers support, breathing and relaxation exercises and other contacts right on your phone. You can also find lots of tips on the Opatruj.se.
Who's going to be looking after you?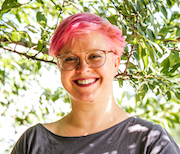 Mgr. Hana Kovářová
She graduated in psychology at the Faculty of Arts of the Masaryk University in Brno. During her studies, she gained experience as an instructor of experiential pedagogy and communication skills. She enjoys board and adventure games, which she also occasionally invents and organises, drinking coffee and walking in the hills. Sometimes she tries to sew something too. She is a trainee in psychodynamic psychotherapy.
Do you have a question? Would you like to make an appointment?
Contact me at
Phone: +420 553 46 1345
Updated: 02. 05. 2023