Career Fair 2023 – Programme
Take a step towards your dream career - on April, 5 at the University of Ostrava's own Career Fair. Find out what will help you get to the interview and make a great impression on Wednesday, April 5.
Make personal contacts with employers, get a professional CV photo with make-up on, consult your CV and language skills and get plenty of inspiration at workshops from professionals on Wednesday, at the brand new City Campus that just opened. And much, much more... To make the lively programme truly accessible to all students, a rector's leave has been announced for Wednesday, April 5 and the entry is free. All our staff and alumni are also cordially invited and welcome.
Although most stages will be held in the Czech language, personal contact and individual meetings will be held in English and numerous institutions are eager to meet you.
Information about individual workshops and presentations can be found below.
Main Stage
10:00
How to: Make an attractive CV and the top 10 common mistakes to avoid
Lenka Lapišová
(Counselling and Career Centre)
You need one pretty much anywhere you need to present yourself quickly and meaningfully. For admissions, school, internships and jobs. The purpose of a CV is to present yourself in a way, that no one has any doubt that you can handle the job, study or internship offered. Not everyone, however, manages to write such a CV perfectly the first time. Learn from the mistakes of your predecessors and get some tips on how to tune-up your CV.
An hour jam-packed with practical information;
Top 10 mistakes that kill your CV;
Tips and tricks to make your CV an attractive piece;
Space for questions you might have about CVs.
11:00
The future of the labour market
Tomáš Faust (GoodCall s.r.o.)

Are you interested in what will happen to the labour market in the coming year? What will be the impact of AI on the future of work for all of us? How important are digital skills in your life?
12:00
From Czech Television to healthcare
Gabriela Lefenda (AGEL) in an interview with
Adam Soustružník
(CMC)
Interview about studying at the UO;
Experiences in the media business;
Joining the Czech Television news department;
How her journey continued all the way to the board of AGEL.
13:00
Fear, meaning and motivation
Kovy

A lecture about stepping out of the comfort zone, constant search for and overcoming of the barriers we build ourselves. Where to take the next step? Whether you are choosing your next school or career direction, these three phenomena are something, that comes into play. Let's explore them. An open discussion and opportunity to ask questions beyond the presentation topic.
14:00
A story of an UO Faculty of Medicine alumni
Martin Palička

Fresh holder of the Forbes 30 under 30 title. Physician, volunteer, visionary and an entrepreneur, alumni and current PhD student at the UO Faculty of Medicine. What was his journey throughout his studies? How did he end up volunteering in Africa? What was the transition into practice like for him? You will also learn more about his project "Po medině", which helps Czech medics.
15:00
The magic of a cover letter
Vladislav Kos
A cover letter is an important part of a job or internship application. Along with your CV, it is one of the first pieces of information your potential employer will get to know about you, and it can contribute to you being selected (or not) for an interview. In this lecture, you will learn what a cover letter should look like, what it should contain and its format.
Cover letter, its magic and how it can help you
What does it mean to "tailor it to the employer?"
What should be its format, content and other features
Are there differences in various cover letter formats?
16:00
Social work with sex workers
Petra Feller Stanieková and Vendula Nevřelová (Rozkoš bez rizika, z.s.)

A short interactive workshop focused on social and health work with people providing sexual services for money. What does field work with people working in the Czech sex business scene look like? What need and topics do we as social or health workers most often encounter? We will touch upon the topics related to the stigmatization of people in the sex industry by the majority society, the most prevalent myths related to prostitution, issues of sexual violence and others. The main emphasis will be on the possibilities and limits of the involvement of helping professionals.
Company and institution stage
presentations
Non-profit stage
presentations
Workshop stage
Relaxation stage
University stage
Throughout the day
company, institution and non-profit booths;
CV checking and consultancy;
make-up and photographing profile pictures;
recruitment to the bone marrow donor registry;
contests.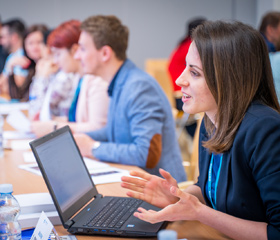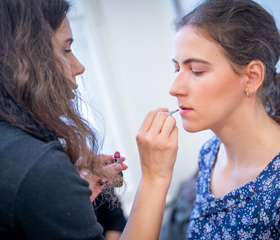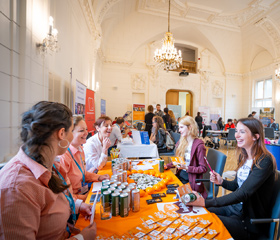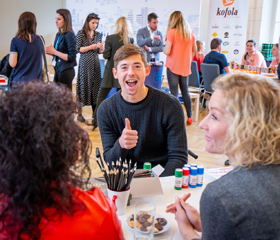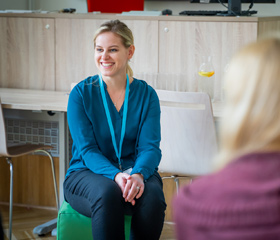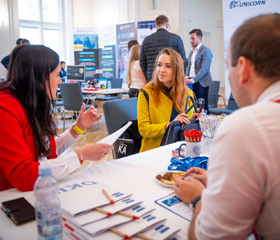 Updated: 13. 03. 2023