Social and legal counseling
The goal of social and legal counseling is to help students orientate themselves in the social arena and find ways to solve complex life situations. We provide basic and expert advice needed to address adverse life situations and to solve problems with a legal aspect.
We are here for
Students
Social counseling:
Social issues related to studies (scholarships, meals, accommodation, ...)
Financial issues related to studies (lack of funds, study fees, studying and temporary work, ...)
Practical issues related to studies (student benefits, student cards, ...)
Family and relationship issues (motherhood, divorce, death, addiction, illness, guardianship issues, foster care, ...)
Navigating the social system (social services, insurance, welfare benefits, etc.).
Mediating contacts for support services (social and legal services in Ostrava, contacts to institutions for making legal claims or fulfilling obligations)
Legal advice:
Work-related legal issues (employment contracts and agreements)
Legislation, assessing the legal nature of a problem
Consultation on matters relating to administrative, civil, family and employment laws and social security
How to make an appointment?
Personal consultation with an counselor can be arranged in advance by email. Advice can also be obtained outside an appointment by using open hOUrs. You can find the times for the current month under "Events, Workshops" and on our FB page.
For answers to simple questions, you can also use email consultation.
For personal consultations of a legal nature, an appointment arranged by email is required. Consultations of this nature take place every Thursday morning by appointment.
Counselor contact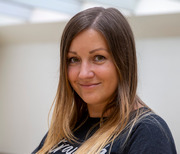 Mgr. Lenka Caletková, Ph.D.
Mgr. Lenka Caletková is a doctoral candidate in social care and work at the University of Ostrava. Her focus is on the complex life situation of the student. She offers help in crisis situations and can direct you to specific specialized organizations.
How can you contact me?
E-mail:
Updated: 17. 03. 2020