Career Fair 2022 – Programme
NOTICE: The validity of the information on this page has expired.
Take a step towards your dream career - on 5th and 6th April at the University of Ostrava's own Career Fair. Find out what will help you get to the interview and make a great impression in the online career prep on Tuesday, April 5.
Make personal contacts with employers, consult your CV and language skills and get plenty of inspiration at workshops from professionals on Wednesday, at the Faculty of Science. And much, much more… To make the lively programme truly accessible to all students a rector's leave has been announced for Wednesday, April 6 and the entry is free. All our staff and alumni are also cordially invited and welcome.
Although most stages will be held in the Czech language, personal contact and individual meetings can be held in English.
Information about individual workshops, presentations and links to register for online workshops can be found in the JobTeaser career portal.
Online Prep (April 5, 2022)
Live Version (April 6, 2022)
MAIN STAGE- Lecture room
+
Non-profit STAGE - presentations of organizations
9:30 - 9:45
Salvation army in the Czech Republic, z.s.
9:45 - 10:00
Association TRIGON o. p. s.
10:00 - 10:15
Centrum pro rodinu a sociální péči z. s. (Centre for family and social care)
10:15 - 10:30
Retirement home Korýtko, contributory organization
10:45 - 11:00
Renarkon, o.p.s.
11:00 - 11:15
Slezská diakonie, Exit Therapeutic community
11:15 - 11:30
Spirála Ostrava, z.ú.
11:30 - 11:45
S.T.O.P., z.s.
+
Company STAGE - presentations of companies
9:25 - 9:45
AXA Assistance
9:50 - 10:10
British American Tobacco
10:15 - 10:35
Cara Plasma
10:40 - 11:00
Česká spořitelna
11:05 - 11:25
Expando Global
11:30 - 11:50
Expact Centre
11:55 - 12:15
St. Anne's University Hospital in Brno
13:00 - 13:20
Liberty Ostrava
13:25 - 13:45
Ostrava City Hospital
14:40 - 15:00
Psychiatric hospital Jihlava
Throughout the day
Free LEMONADE, chillout zone, Chytrá svačina + OKOLO coffee
Counselling corner - our team from the counselling center will discuss with you anything you need to know about yourself and about your studies at the UO
CV check - consult your CV with real professionals
Pyramid Centre corner - have fun and try what it is like to be "different"
Language corner - language testing - English, German, French
Make-up and photo shoot for your CV - get a pro photo for your CV
Internships and the JobTeaser career portal - stop searching and finally find your dream job
OUshop - make yourself happy with a design piece
OU Volunteer Centre
Competition for cool prizes
Recruitment for the bone marrow donor registry
And finally… An after party at the club Áčko. Starting at 5pm a DJ set and a saxophonist - Dr. Zeppelin and Radim Nowak.
What did it look like at our last Career Fair (2019 at Českobratrská street)?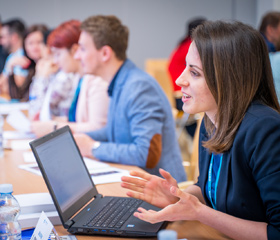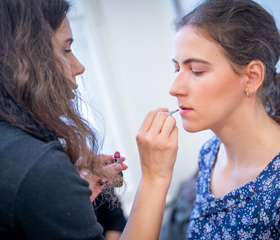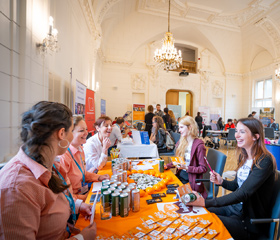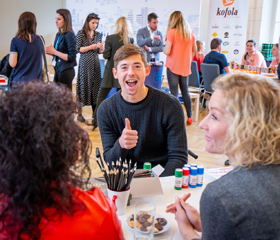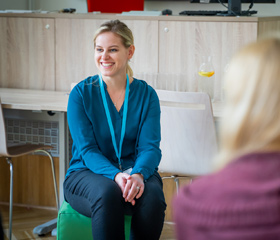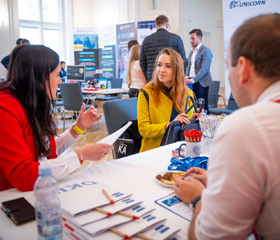 Updated: 01. 04. 2022